Au Canada, les menaces de violence à l'encontre du chef du Parti libéral, Justin Trudeau, se sont multipliées dans le cadre de la tenue des élections anticipées.
Bien qu'il ne soit pas le seul dirigeant à faire l'objet de harcèlement, M. Trudeau a vu sa campagne perturbée ces dernières semaines par de petites foules hostiles, principalement composées de Blancs — un manifestant a même été inculpé pour lui avoir lancé du gravier lors d'une apparition publique.
En dehors de nos frontières, certains pourraient s'étonner de ce sentiment de colère à l'égard d'un politicien qui, à l'étranger, jouit de l'image d'un progressiste à la fois jeune, charmant et énergique. Pourtant, nos recherches sur les mèmes canadiens ont révélé une aversion viscérale persistante à son endroit, au sein de nombreuses communautés en ligne de droite.
Au Canada, Justin Trudeau suscite des réactions polarisées : en ligne, les gens l'adorent ou le détestent.
Fils de l'ancien premier ministre Pierre Elliott Trudeau, qui bénéficiait d'une notoriété similaire à l'international, il a d'abord déclenché une véritable trudeaumanie lors de sa première victoire électorale en 2015. Se jouant largement sur le terrain d'Instagram, cette campagne, qui prônait un retour vers les « voies ensoleillées », a marqué un tournant libéral après des années d'hégémonie du Parti conservateur.
Le formidable engouement qui s'en est suivi donne une autre preuve que la frontière est parfois ténue entre culture du vedettariat et culture politique.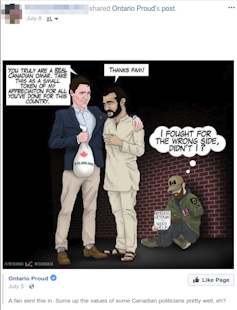 Deux ans plus tard, la trudeaumanie s'était largement estompée, bien qu'elle ne se soit jamais emparée des groupes de droite. En 2017, un ami a partagé une publication d'Ontario Proud, qui est une sous-division de Canada Proud, une page Facebook populaire dirigée par un expert en stratégies des médias de centre droit. Il s'agissait d'une caricature provenant d'une sous-communauté d'extrême droite de Reddit qui laissait entendre que Justin Trudeau avait trahi les anciens combattants, blessés à la guerre.
Le croissant islamique sur les chaussettes du premier ministre semble vouloir accréditer les théories conspirationnistes, selon lesquelles Justin Trudeau aurait versé de l'argent à Omar Khadr. Ce citoyen canadien avait, à l'âge de 15 ans, été détenu pendant 10 ans par les États-Unis à Guantánamo pour le meurtre d'un sergent de l'armée américaine durant la guerre d'Afghanistan. Cette allégation passe cependant sous silence les violations de la Charte canadienne des droits et libertés, qui ont pourtant conduit à une procédure judiciaire et au versement d'une indemnité de 10,5 millions de dollars à M. Khadr.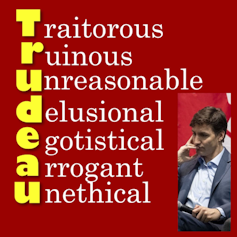 Lorsque nous avons commencé à étudier les pages Facebook des militants de base en 2019 — une autre année électorale, les accusations de trahison envers le Canada à l'encontre de Justin Trudeau étaient légion. Nous n'avons trouvé aucune page de mèmes pour louer son action.
Nous voyions plutôt des pages anti-Trudeau brossant l'image d'un traître, qui ne méritait que mépris.
Dans un autre mème, le nom Trudeau avait même été abrégé en Turd (étron).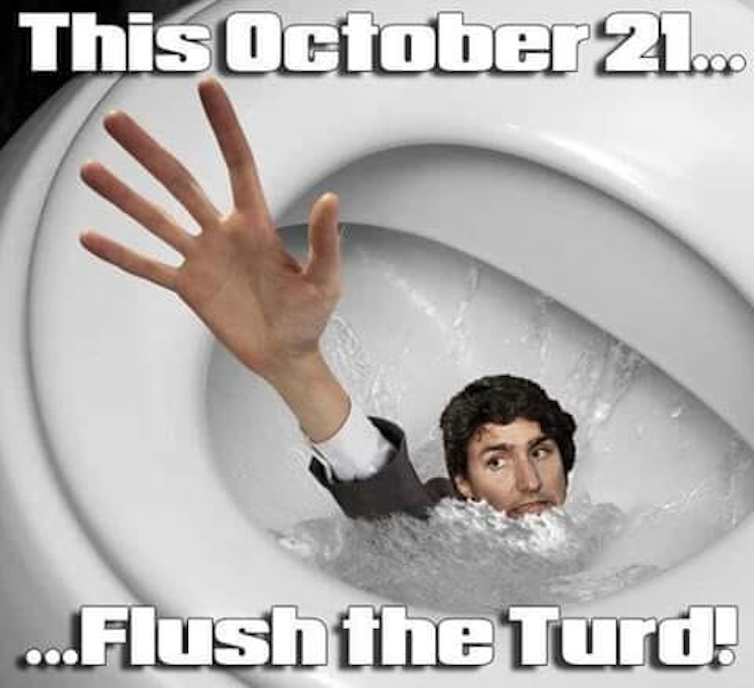 Accusations de blackface et d'inconduite sexuelle
Ces groupes de droite ont eu une réaction différente à l'égard du scandale du blackface qui a éclaté lors de la campagne de 2019. Comme certains commentateurs traditionnels, ils estimaient que le comportement passé du premier ministre était le symbole de l'hypocrisie des libéraux. Ils ont même accusé Justin Trudeau de pratiquer une égalité et une justice sociale de façade et à géométrie variable.
Mais les critiques de ces groupes ont été bien plus acerbes à l'encontre des accusations d'inconduite sexuelle qui ont visé le premier ministre. Ils ont en effet affirmé « avoir découvert des preuves » du comportement présumé lubrique de Justin Trudeau au sein d'anciennes écoles où il a enseigné. Ils ont notamment fustigé ses mains jugées baladeuses, sur une photo prise lors d'une « soirée Bollywood » en 2001.
Les mèmes sont alors devenus une juxtaposition de preuves à charge visant à démontrer l'inconduite sexuelle passée du premier ministre et à ternir son image actuelle.
Aux yeux de ces groupes, Justin Trudeau était certes un symbole sexuel, mais de la pire espèce. M. Trudeau a alors nié ces allégations en s'excusant pour un incident, dont il n'avait aucun souvenir. Mais dans ces communautés, les controverses successives ont marqué les esprits et remonté un peu plus encore les militants contre le chef du Parti libéral.
Intensification du sentiment anti-Trudeau avec la pandémie
La pandémie de Covid-19 a donné à ces groupes du grain à moudre, et une raison supplémentaire de se sentir trahis par Justin Trudeau.
Selon eux, les confinements, la vaccination, les passeports vaccinaux et les perturbations économiques ont encore apporté un éclairage nouveau sur l'arrogance et la traîtrise supposées de M. Trudeau. Ces réactions n'ont en soi rien d'exceptionnel — la plupart des pays ont en effet maille à partir avec des anti-masques et des anti-vaccins. Ce qui interpelle, c'est plutôt la persistance du sentiment anti-Trudeau et la récurrence d'un discours qui le dépeint comme un dirigeant incompétent et indigne de confiance, aussi bien en ce qui concerne les femmes que l'économie.
Notre analyse met en lumière la face obscure du statut de célébrité de Justin Trudeau. S'il est considéré comme une personne sympathique par de nombreux Canadiens et observateurs internationaux, il est honni par les groupes de droite pour des raisons probablement analogues : c'est un homme blanc et riche, un nanti qui occupe une position privilégiée et tient les rênes du pouvoir. Pour ces militants, il s'agit d'une véritable trahison envers ceux qu'ils appellent souvent « les Canadiens pure laine ».
C'est sans doute là une explication à l'impopularité du premier ministre en ligne et à la présence de foules blanches violentes lors de ses rassemblements politiques.
Comme l'écrit la journaliste Fatima Syed, « ces groupes de manifestants majoritairement blancs qui ont suivi M. Trudeau jouissent d'un privilège injuste, dont ils profitent avec l'accord tacite de notre société. Ils s'en tirent à bon compte avec leur rhétorique et leurs actions haineuses, sans avoir à répondre de leurs agissements ni être punis ».
Ce « privilège » pourrait également expliquer le silence des médias. Quoi qu'il en soit, les groupes de droite déversent abondamment leur rage en ligne. En tant que société, le Canada doit de toute urgence comprendre les dynamiques de pouvoir raciales et culturelles qui sous-tendent les discours de colère et de haine.
Tags: #pourquoi #certains #Canadiens #détestentils #Justin #Trudeau
Written by Fenwick McKelvey, Associate Professor in Information and Communication Technology Policy, Concordia University
This article by Fenwick McKelvey, Associate Professor in Information and Communication Technology Policy, Concordia University, originally published on The Conversation is licensed under Creative Commons 4.0 International(CC BY-ND 4.0).